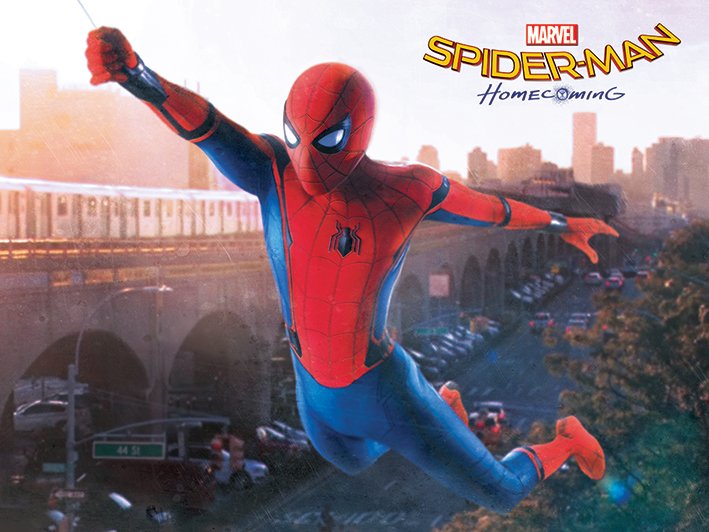 Sony's history with Spider Man movies is a little…well iffy. With its recent partnership with Marvel Studio's for a first and sixth of the intermittent series, the movie has by far ousted the previous five. Spider Man, Spider Man 2, Spider Man 3, The Amazing Spider Man 1, and lastly The Amazing Spider Man 2. Phew!
This movie ideally directs most of the spotlight to Peter Parker, one of the first movies where the actor actually looked to be a teenager. Tobey Maguire, the original Spider Man was 27 years old when he acted in the first Spider Man movie. Andrew Garfield was even older at 28, striking a quite opposite look to the comically scrawny Peter Parker with his occasional corny jokes. This was one aspect Garfield and Maguire didn't do quite so well about, their jokes weren't really, well it didn't appeal to me as the cheesy Peter Parker I read about from the comics.
Which is where Tom Holland's casting came in, his adolescent voice and appearance just add to the pile of everything we love about Spider Man. Peter Parker is loved by millions due to the ways the audience can relate to him, going through high school, homework, bullies, multitasking. I believe that Sony and Marvel Studio's made a smart decision in starting the movie off where Peter Parker's "Captain America: Civil War" cameo ended. I'm sure we all know the story, getting bit by the radioactive spider, Uncle Ben's death, with great power comes great responsibility.
What a huge story to reiterate in each and every single reboot, which I'm surely grateful I was not subject to yet again in the second reboot of this ever so ending series. This also connects Peter Parker to the Marvel Cinematic Universe! Finally am I right! And that's how Tony Stark (Robert Downey Jr.) becomes his mentor, and we get to see Tony and Pepper together again. "Yippee?" However, Captain America's (Chris Evans) in and out appearance was completely disdained from me, not to mention the second end credit scene in the movie. "Patience" Really???!!!
For the most part, the movie was a breeze of "Oh yeah" moments for those who keep up with the MCU (Marvel Cinematic Universe) and was also entertaining when telling the story from Peter's perspective handling his life just the way it is. In the end, I give this movie a 8 star!